http://billingsgazette.com/news/state-and-regional/montana/prescribed-fire-exposes-more-rock-features-at-archaeological-site/article_b5e3e7c8-4bb4-5943-82d5-0d6e9843962b.html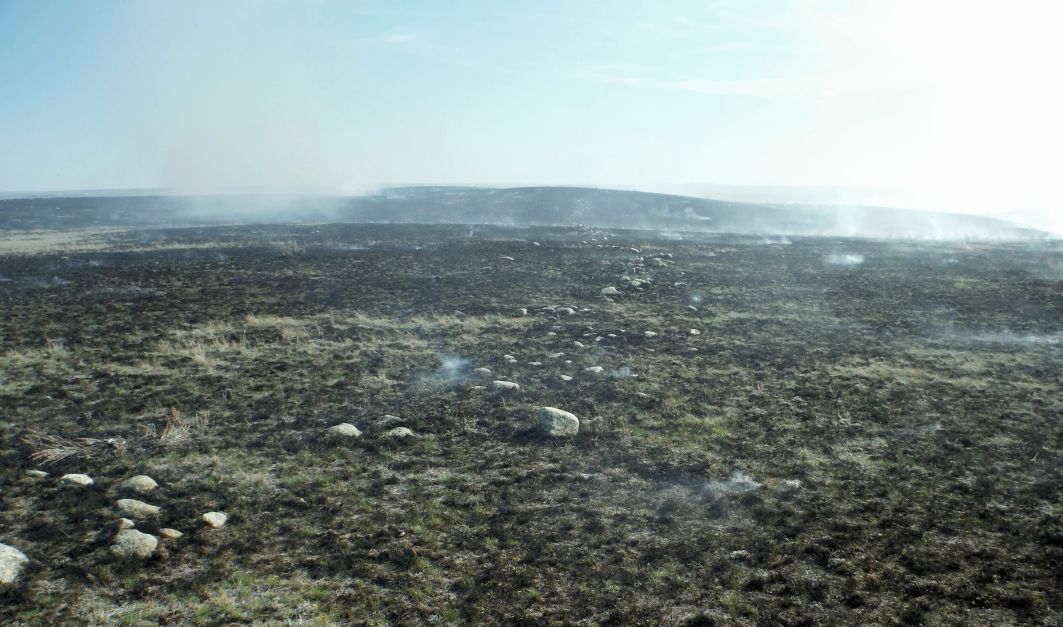 "Prescribed Fire Exposes More Rock Features at Archaeological Site"
The image is from an unmanned aerial vehicle (UAV) and was collected by the Bureau of Land Management (BLM) in Phillips County, Montana. Federally-funded agencies are often required to document the presence of archaeological sites to comply with laws like the National Historic Preservation Act, but regional variations can affect their ability to do so. For example, archaeological sites in the Great Plains often contain stone alignments and other stone features which can be easily lost in tall prairie grasses. As a result, archaeological inventories become costly to complete because of the person hours necessary to survey an area. Through prescribed burns, however, the obstructive vegetation is eliminated, offering a better view of archaeological features.
In this particular case, the BLM conducted the burn on a known archaeological site -- the 800 acre Henry Smith site dating from 770-1040 AD. While some features had been recorded previously, archaeologists expected to find many more features after the burn. The UAV collected 40,000 photos which are still being processed. The image included above shows a stone alignment used by prehistoric hunters to direct the flow of bison as they were driven off of cliffs for mass kills.
The reason I find this image so interesting is because it demonstrates an extension of remote sensing applications to contexts previously considered not visible from the air. While I don't encourage archaeologists to go around setting fire to grasslands in order to access sites, I recognize that this will dramatically increase the archaeological study of the prehistoric Great Plains. As a result, we can gain a much better understanding of past subsistence patterns, domestic activities, cultural interactions and migrations, warfare, and ethnogenesis.